…Ben Affleck. Screw you man.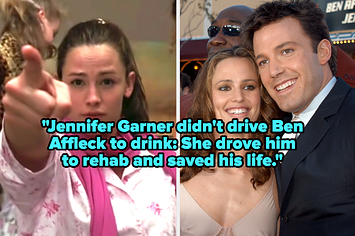 Let me preface this with these are my own perceptions and thoughts and I don't know these people but here is what's on my mind.
You addiction is not your wife's fault dude, and it especially isn't your kids fault. It's your fault, so maybe we man up and take some responsibility. It seems to me that Jennifer Garner put up with you for longer then she should have an never restricted access to your children despite your addiction, bad behavior and apparently being a dick too. It looks like she did everything she could to help you and keep you connected to your kids. Do you know how many people could claim what you're claiming and didn't drink themselves into a stupor? They have those problems and the added stress of not being super rich with a super hot wife. Poor you. Congrats on having more kids now BTW because JLO has kids too. Which means you just doubled what you said was causing you stress. Jennifer Garner can do better and definitely deserves better you prick. Unlike you, she has class. She didn't say one bad word about Ben Affleck through everything.
I admire anyone fighting addiction and doing their best. I do not believe these comments are his best. Man the fuck up dude. It's a lot sexier then saying you were trapped in a marriage by your super hot wife and kids in a huge mansion with all the money and help you could need. It's laughable.
Some of you may be wondering why I am so fired about this? It's because he isn't taking responsibility for his actions and his short comings. Dealing with addiction isn't easy – blaming other people is. Speaking like the mother of your children trapped you in some way is unacceptable. That's the mother of your children, show some respect. Just leave those kids with her, they will be better off for it.